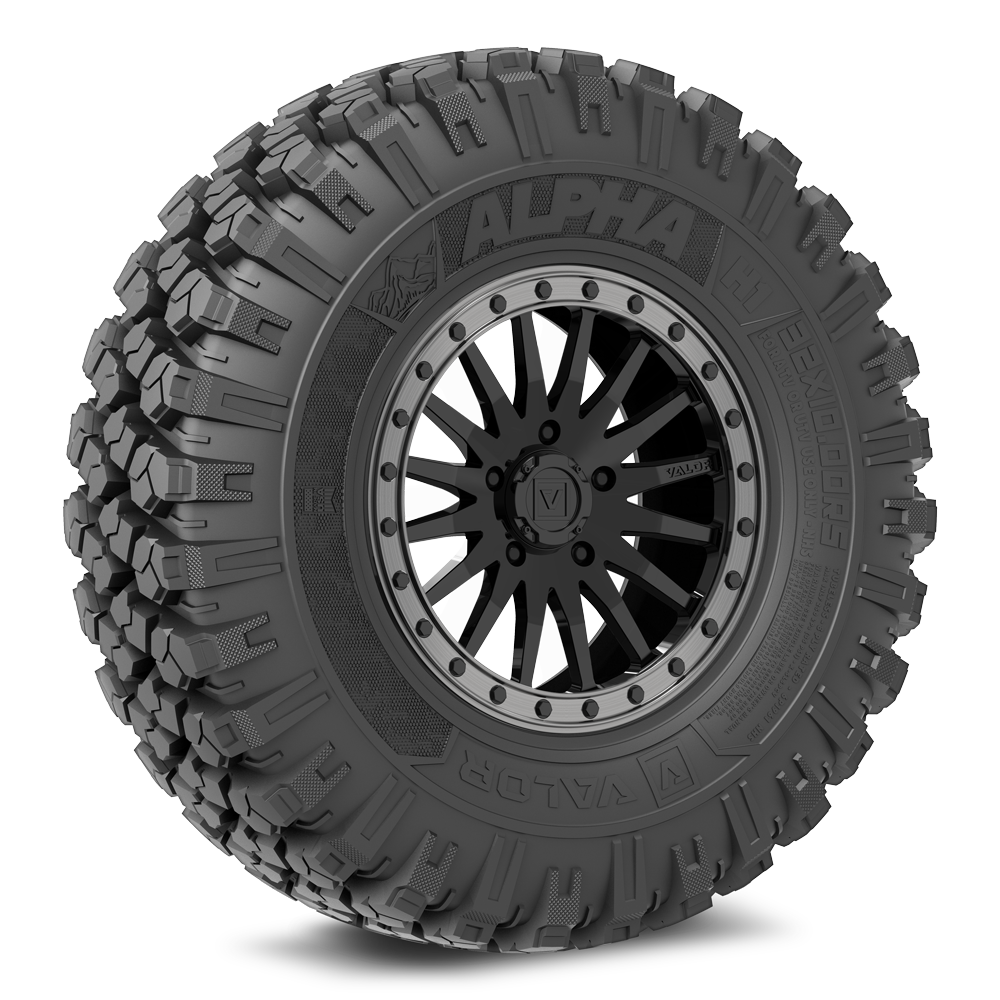 Alpha on V06 GB
Bolt Pattern:
5x4.5 (5x114.3)
DESCRIPTION
This custom UTV wheel and tire kit features one of the hottest Polaris beadlock UTV wheels in the industry, the Valor Offroad V06. Developed exclusively for the Polaris 5-lug platform, the V06 adds style and performance without sacrificing weight.
For this kit, the Valor V06 beadlock wheel is mounted on a revolutionary new UTV tire, the Alpha by Valor Offroad. This incredible tire is developed, engineered, tested and manufactured in the United States. 
KIT INCLUDES
IMPORTANT:
Tire clearance varies by specific machine
If you have any questions or concerns about your fitment please contact us BEFORE

 

you order.
Lug nuts (installation kit) are NOT included on wheel and tire kit orders. Valor Offroad wheels require a special type of lug nut and your stock lug nuts will not work. You must include one of our installation kits to install this wheel and tire combo on your ATV or UTV.
WHEEL ADDITIONAL INFORMATION

TIRE ADDITIONAL INFORMATION
| | |
| --- | --- |
| HEIGHT (OD) | 32" / 35"  |
| WEIGHT | 45 lb / 58 lb |
| WIDTH | 10.15" / 10.80" |
| RATING | 8 Ply |
| TYPE | Radial |
| TREAD DEPTH | 20mm |
| CONDITION | New |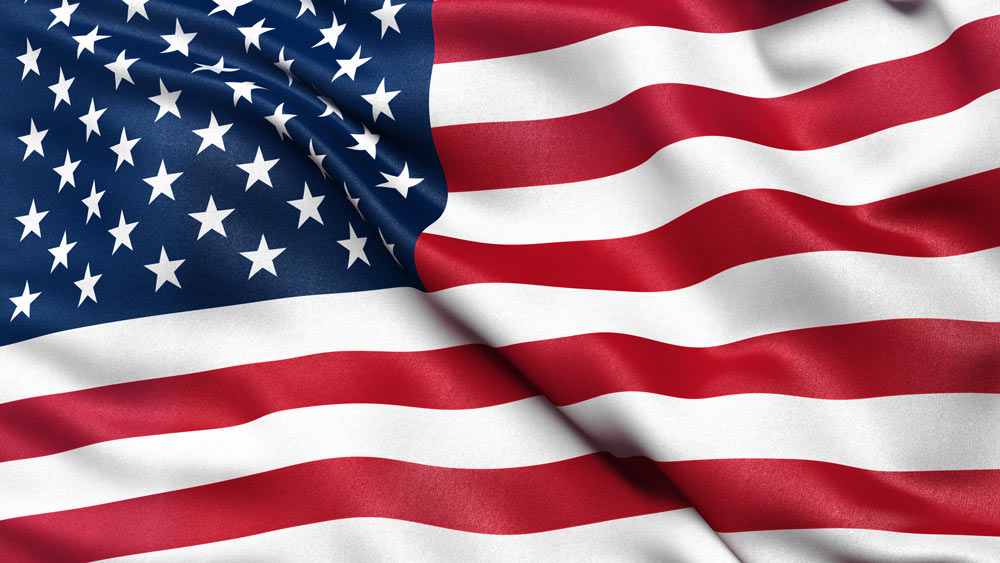 the next generation of offroad
The Alpha
Developed, engineered and manufactured in the United States, the Alpha UTV tire is truly unlike any tire on the market.
This isn't our first rodeo. We've been manufacturing UTV specific tires for over 15 years. We developed the Alpha UTV tire from the ground up, overthinking every aspect along the way. Each Alpha tire is proudly made in the United States by skilled technicians.
Balanced Compound
65 Durometer
Striking a balance between durability and performance can be tricky. We went softer than most of our competitors and landed on a balanced compound durometer rating that gives you the bite you want when you need it, and the durability to last thousands of trail miles.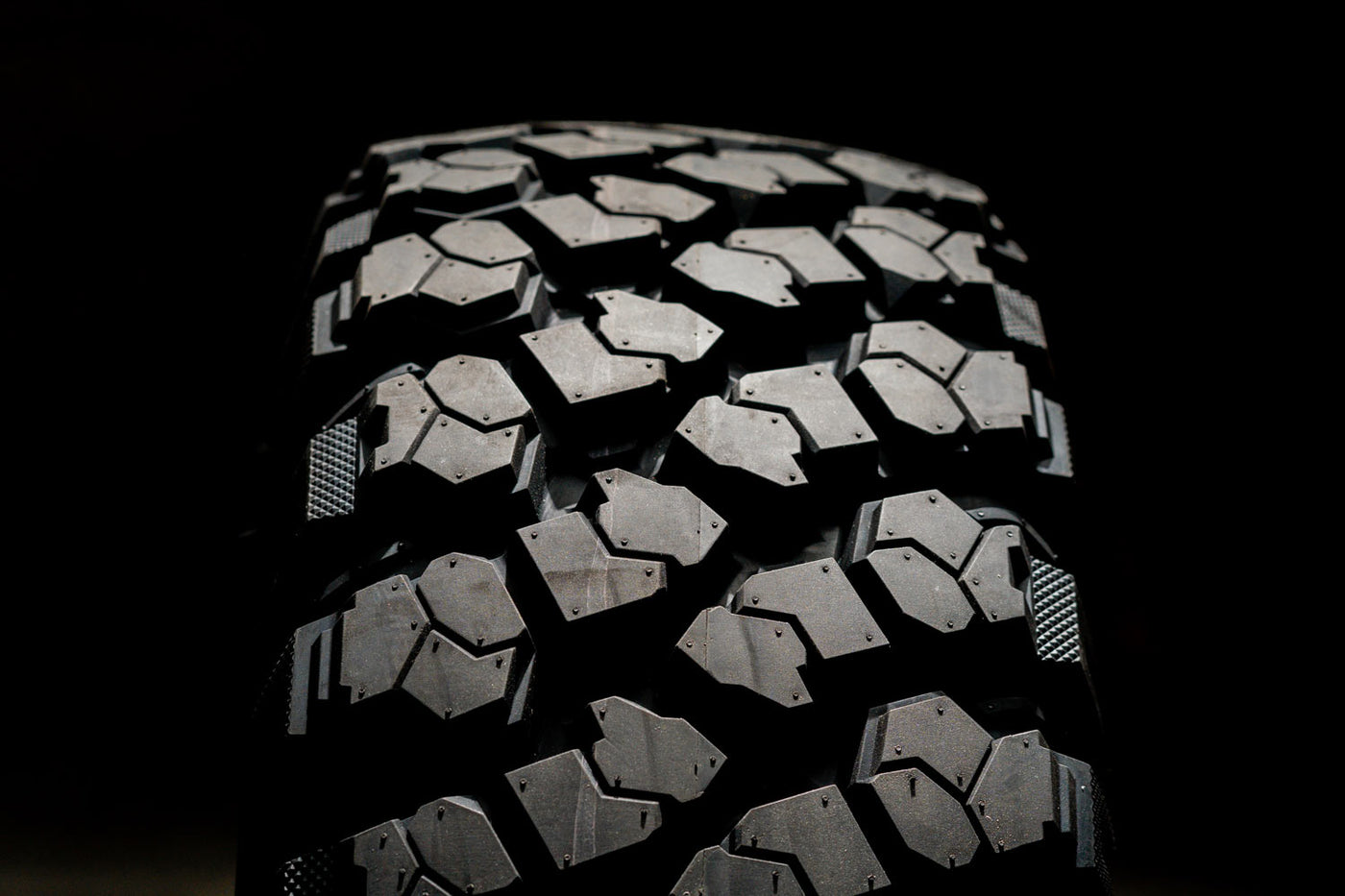 Conquer any terrain
non directional pattern
The Alpha UTV Tire utilizes enormous 20mm tread lugs and tight spacing to improve ride quality, reduce vibration and eliminate tire decibels on high speed hardpack.
Want to tackle some trail obstacles? Combine the Alpha's balanced H1 rubber compound, multi-tiered tread pattern and deep shoulder armor for the ultimate upgrade for those difficult sections of trail.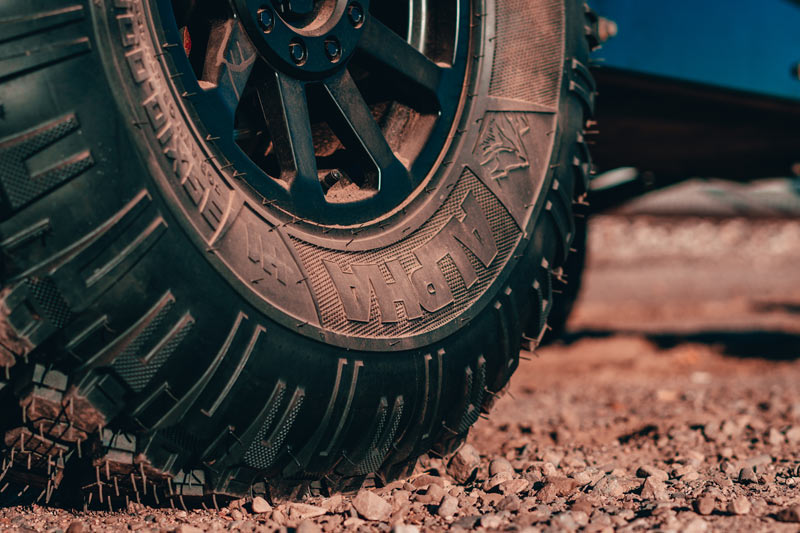 PROVEN
We put the Alpha through a gauntlet of testing in the United States and 1300 miles of punishing terrain to the tip of Baja. The Alpha exceeded all expectations from our test drivers.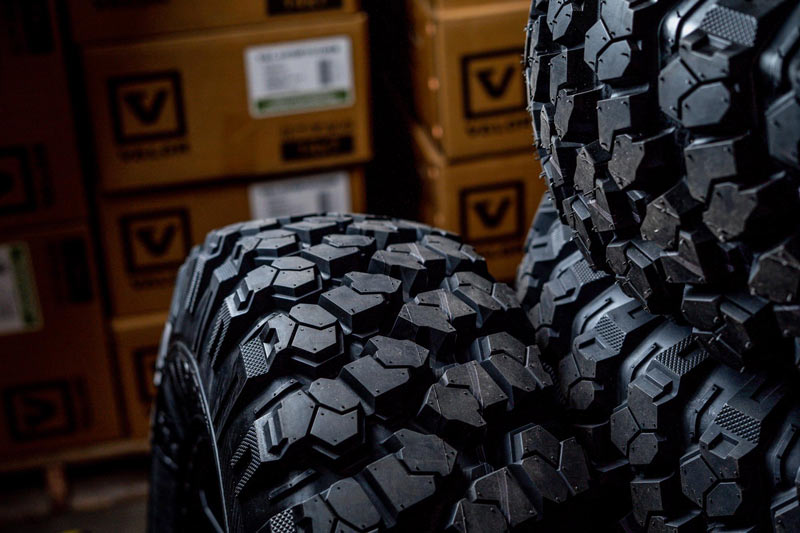 TRUE TO SIZE
Tired of purchasing a new set of tires and quickly realizing your overall diameter doesn't match the sidewall? Us too. Our tires are ALL true to size. Get what you paid for.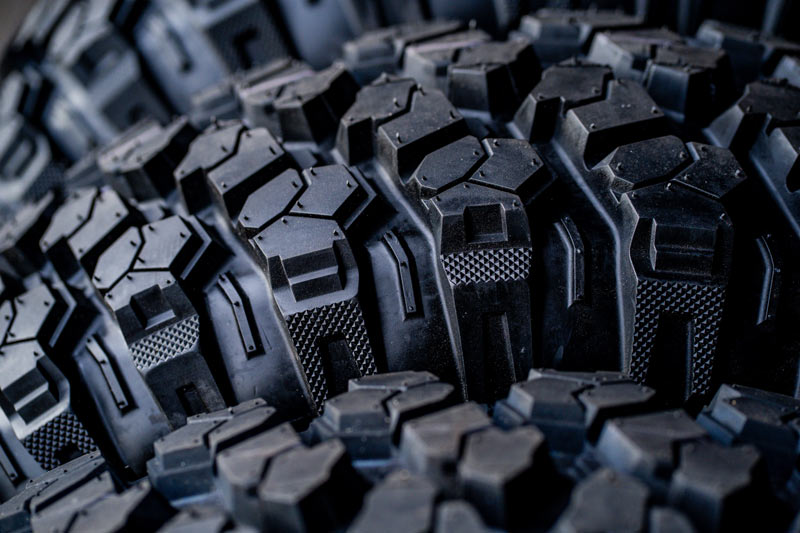 ENGINEERING
From the extra wide siped tread pattern to the performance based medium-soft compound, the Alpha UTV Tire is unlike any tire out there. Get your hands on a set today.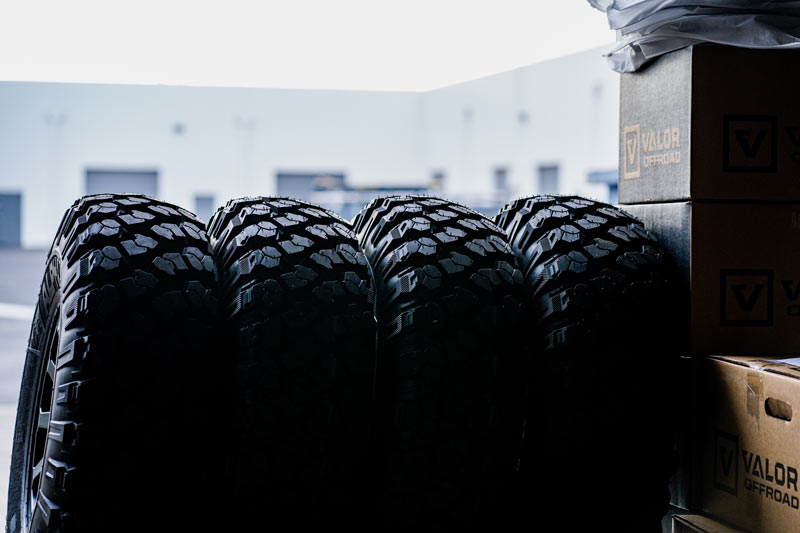 Perfect Match
The Alpha was engineered to work perfectly with any of our Valor Offroad UTV Wheels. The tire bead, lip thickness and wheel width were all considered during development.
Alpha UTV Tire Specs
All Alpha UTV tire sizes were developed to measure true to size. Most tires aren't. Make sure you get what you paid for with an American made true to size performance tire.

Overall Diameter
32x10.00R15 - 32.10" @ 15psi
35x10.00R15 - 35.10" @ 15psi

Overall Width
32x10.00R15 - 10.15" @ 15psi
35x10.00R15 - 10.80" @15 psi
All Alpha UTV tire weights are for the tire ONLY and do not include wheel.
32x10.00R15 - 45.20 lbs
35x10.00R15 - 58.50 lbs
The Alpha UTV Tire has an agreessive 20mm tread depth (0.787")
The Alpha H1 on the Alpha UTV tire is a proprietary compound that registers at 65A
No. The Valor Alpha UTV Tire is not a DOT certified tire.
The National Highway Traffic Safety Administration (NHTSA) states that Utility Terrain Vehicle (UTV) and All-Terrain Vehicle (ATV) tires offered for sale in the United States incorrectly labeled and marketed as being compliant with DOT Federal Motor Vehicle Safety Standards (FMVSS) are prohibited.
This means that the symbol "DOT" cannot appear on any ATV, UTV, or Not for Highway Service (NHS) tire. Only tires intended for a vehicle certified to the FMVSS are legally permitted to be marked with "DOT" and may be marketed as conforming to the FMVSS.
Language that tires are "approved," "certified," or "compliant" with DOT standards are also prohibited per FMVSS standards.
Refer to NHTSA and FMVSS statement below:
According to 49 U.S.C. § 30102, a "motor vehicle" is defined as: (7) ''motor vehicle'' means a vehicle driven or drawn by mechanical power and manufactured primarily for use on public streets, roads, and highways, but does not include a vehicle operated only on a rail line.  
Based on this definition, there are no FMVSS that apply to UTV or ATV tires, because UTVs and ATVs are not manufactured for use on public roadways. Additionally, 49 C.F.R. § 574, Tire Identification and Recordkeeping states: 
49 C.F.R. § 574.5(e)(1) - The DOT symbol constitutes a certification that the marked tire conforms to an applicable Federal Motor Vehicle Safety Standard. And: 
49 C.F.R. § 574.5(e)(3) – The DOT symbol must not appear on tires to which no Federal Motor Vehicle Safety Standard is applicable.
All Alpha UTV Tires are 8-ply Radial
The Valor Alpha tire follows the NHS/TRA speed/load index specifications.
Tires that have NHS in the tire size or designated on sidewall are designed for off highway applications ONLY. They must not be used in normal highway service. NHS tires are not intended for the speeds, temperatures, or stresses of highway use.
Example: VAT-321000R15H1
VAT: Valor Alpha Tire
32: Overall Diameter
1000: Tire Width (10.00")
R: Radial
15: Fits any 15" wheel
H1: Compound
EXAMPLE:  32X9.50R15 LT 
32x - Tire height
9.50 - Tire width
R - Radial construction
15 - Wheel diameter
LT - Light Truck
Tire diameter refers to the overall diameter/height of the tire. For SxS specific tires, the tire diameter is always in inches and is typically the spec that people refer to when they talk about tires. 
Tire width refers to the width of the tire's contact patch or aspect ratio. This measurement is important for people who have vehicle width limitations (trailer or garage) as the wider the tire, the wider your vehicle will end up. 9-10" is a very common width range for SxS specific tires. 
Radial construction tires are built with cords, or plies, that run perpendicular to the direction of travel, and belts under the tread. This gives them a smoother ride and helps prevent heat build-up, which can make the tires last longer. If your tire is not Radial, you have bias-ply tires which are built with plies that are layered so they crisscross over each other. This creates a more rugged design, with greater puncture resistance in the sidewall.
Wheel diameter refers to the available wheel diameter. In this example, a 15" wheel was engineered to work with this tire size. SxS wheels are typically 7" wide so the preferred wheel for this tire would be a 15x7".
Light Truck (LT) tires are built with a rugged carcass, including more, thicker plies and sidewall reinforcements. Because LT tires come with higher load carrying capacities and a more robust construction, they're far more rugged and durable than your average passenger tire, making them perfect for extra weight and tough road conditions.