The V06 was developed specifically for the new Polaris 5-Lug platform. With beefier load rating, increased width for larger tire sizes, and three unique finish combos, the V06 is ready for the next level of offroading. Learn what makes the new Valor Offroad V06 different from the rest.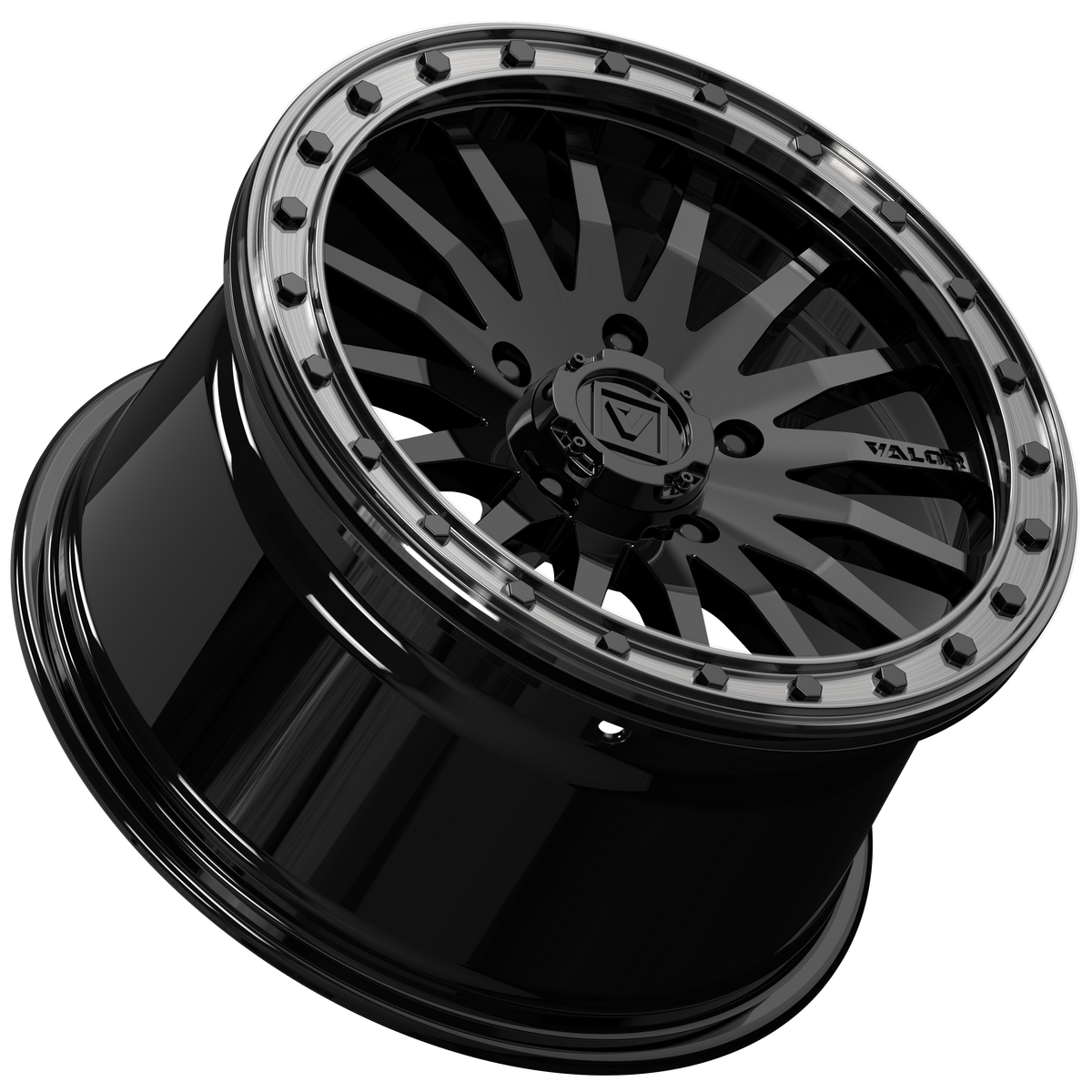 Gloss Black
This combo has our signature gloss black finish wheel matched with a brushed gunmetal billet beadlock ring. Gloss black shorty cap (with new black logo) and all gloss black hardware.
Satin Black
This version of the new V06 features black on black with a satin black wheel and gloss black billet beadlock ring. Cap is a matching satin black with all gloss black hardware.
Design
This V06 beadlock wheel is available in three distinct finishes: Satin Black, Gloss Black, and Brushed Gunmetal.
Standard V06 Beadlock Ring Combinations:
• Satin Black wheel with Gloss Black Ring
• Gloss Black wheel with Brushed Gunmetal Ring
• Brushed Gunmetal wheel with Gloss Black Ring
Installation hardware is gloss black.
Center caps vary with finish. The Gloss Black and Brushed Gunmetal finishes will come out of the box with our new Gloss Black Shorty Cap featuring Gloss Black Valor "V" Logo. The Satin Black finish will come with Satin Black Shorty Cap and white Valor "V" Logo. Have a unique fitment and need longer caps? We've got you covered with our Tall Cap.
We take a lot of pride in designing products and finishes that will last you a lifetime of enjoyment. All Valor Offroad products undergo a barrage of brutal safety and quality assurance tests so that no matter where you ride, or whatever mother nature throws your way, we've got you covered.
Looking for a custom fitment or custom finish? Check out all of our Valor Offroad center caps here.
The V06 is available in 15x8 with a +40mm offset which translates to a 6+2 backspacing. We developed the 15x8 size specifically for users who want to plus-size tire sizes. The standard 35" tires work great on 7-wide wheels however as some enthusiasts you go larger into 37" and 39" tires, we recommend a wider wheel width to accomodate those larger spec tires both in OD and in tire overall width.
Because the Valor V06 beadlock wheel was developed for the new Polaris RZR 5-lug, we increased the load rating to a stout 1250 lbs.
Each of our Valor Offroad wheel styles is carefully wrapped in just the right amount of protective material to ensure a safe trip from our warehouse to your door. We are hyper selective in our packaging design and shipping to remove any unnecessary or redundant packaging.
Unless noted, your cap will match the finish of the wheel selection. Each cap includes all necessary installation hardware and will come pre-installed. See all Valor Offroad center caps.
All Valor Offroad beadlock wheels include all necessary mounting hardware on the bottom of the box. Please ensure you remove all packaging before descarding boxes.
Need lug nuts (installation kit)? Check out our full assortment of UTV wheel installation kits here or check out our fitment guide to figure out what Installation Kit you need.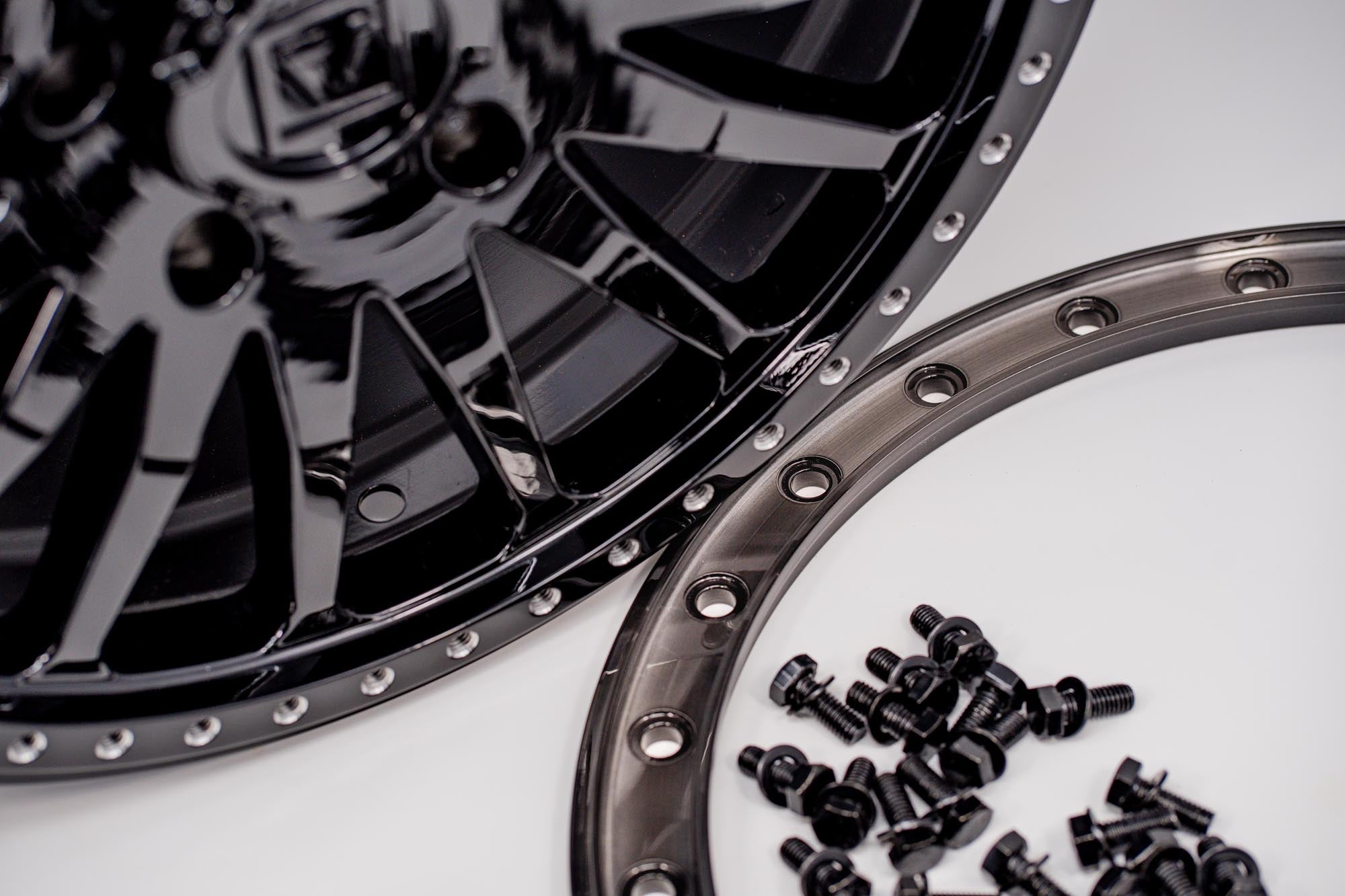 48 beadlock drill
Double up
We drilled 48 beadlock bolt holes in each and every one of our V06 wheel lips so you're always ready for anything. In the event one set of beadlock bolt holes seizes, you have another set of holes you can use as backup. You may never need it, but we've got you covered regardless.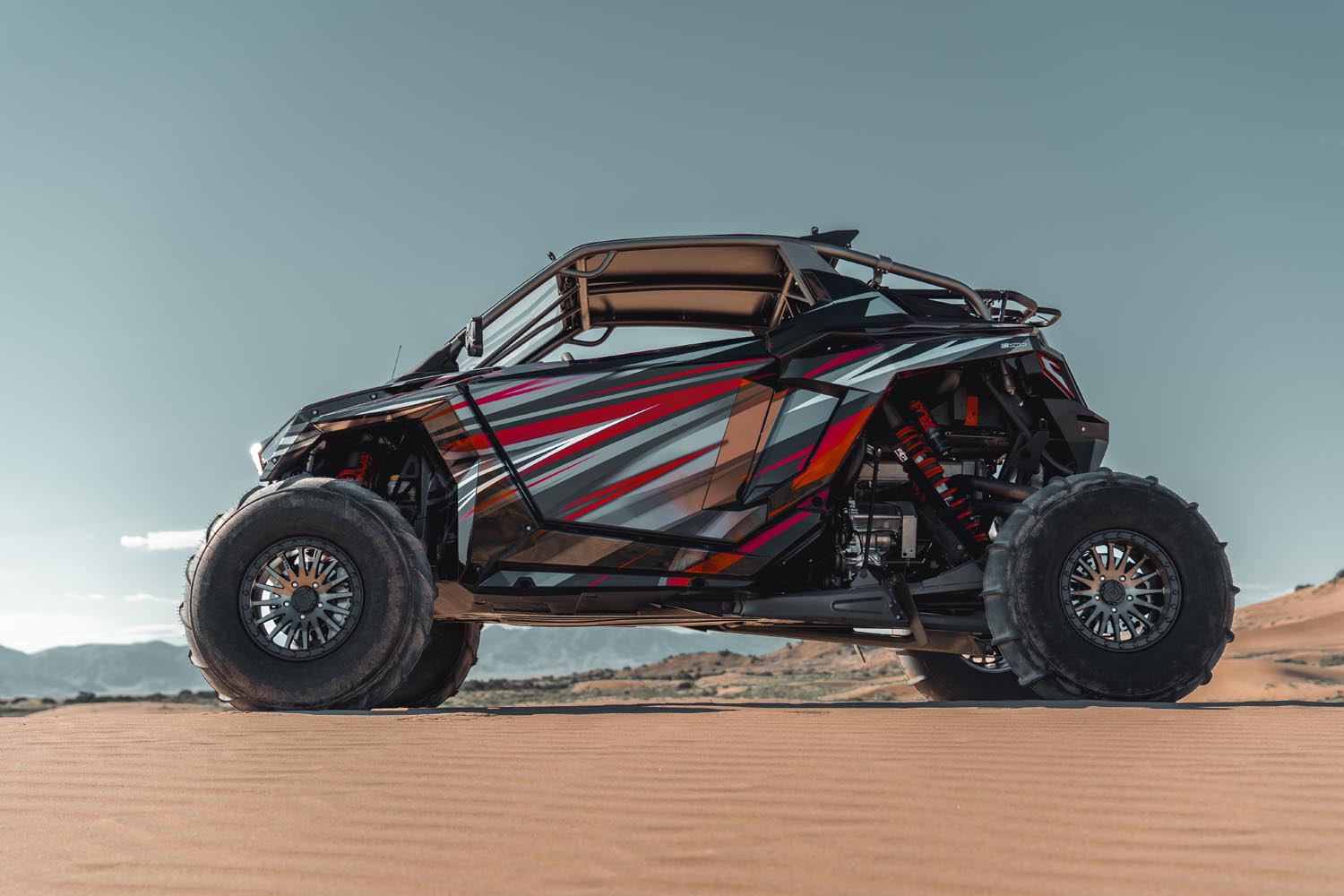 New finish
brushed gunmetal
We're super excited to launch our new Brushed Gunmetal finish, available on select beadlock ring and wheel options.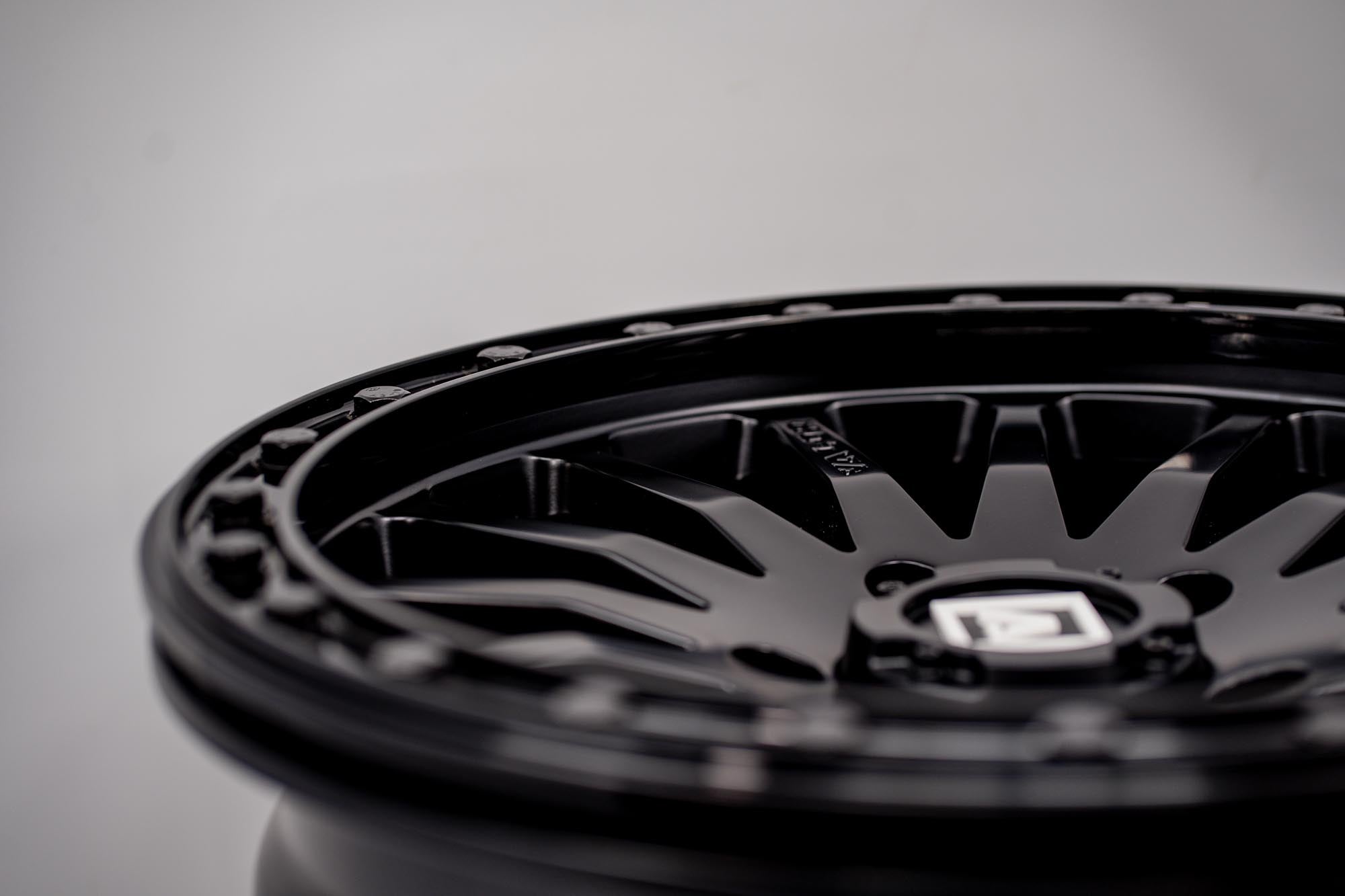 Offroad Engineering
BOLT PROTECTION
Rocks, roots and extreme terrain can chew up the lip of your beadlock wheels. All Valor Offroad bealock UTV wheels utilize a deep beadlock ring channel to protect the bolts that hold your wheel and tire together.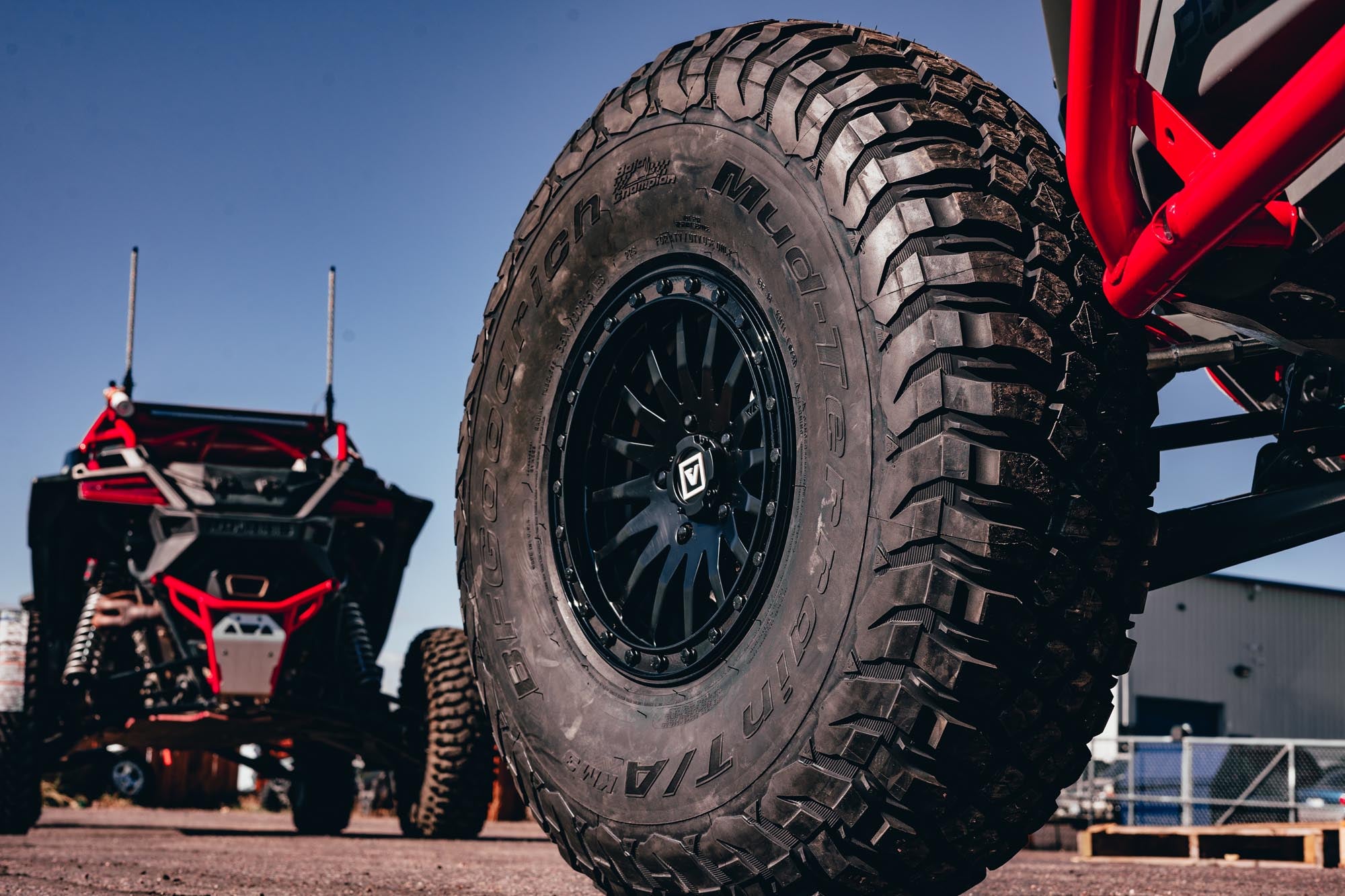 new width
eight-wide
When we develop new products, we spend a ridiculous amount of time in the testing phase to ensure each checkbox is hit. We knew when we developed a 5-Lug option for the new Polaris platform, it needed to exceed current standards. By moving to an 8-wide width, our V06 is ready to perform on any future tire sizes beyond 35". We could have shaved several pounds by sticking with a 7-wide, however this is weight well served to ensure you're prepared for the future of offroading.
We care about weight
The Entire Valor Collection is Ultra lightweight
Do your own double check and see how our wheel weights stack up against the competition. You'll truly be amazed at how much weight you can save with a set of Valor Offroad wheels without sacrificing safety, speed, strength or styling. Click the button below to see the full collection weights.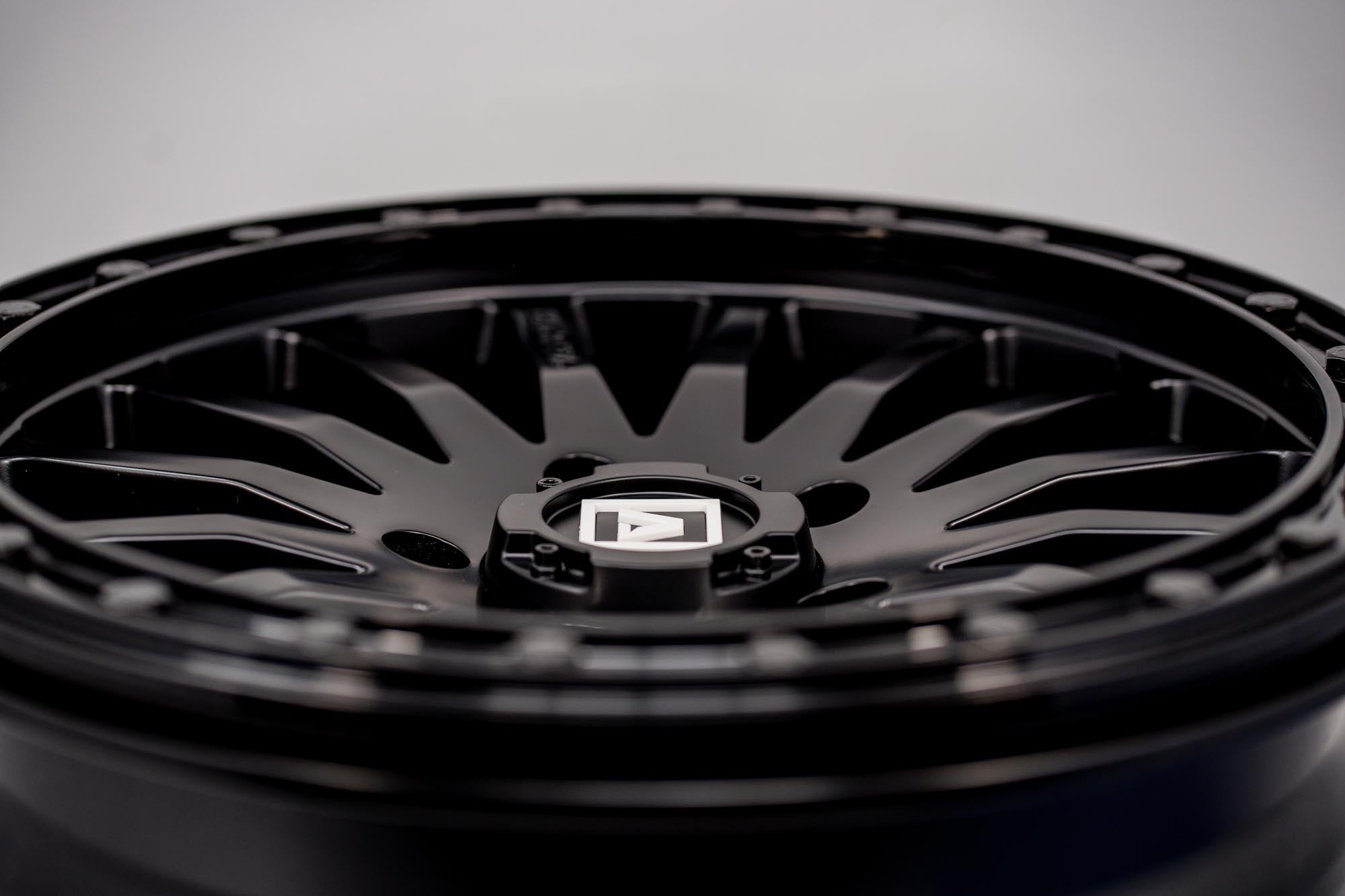 I'm New Here
What is a beadlock?
Dive into the pros and cons of what makes a beadlock a popular choice. It all depends on your driving style, your preferred trails and the type of terrain you like to tackle. Click the button below to learn more.